GLASS DISCS-GLASS PANELS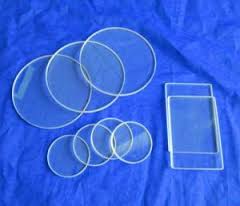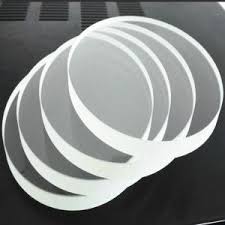 The glass discs with or without central opening can be from tempered or refractory glass and have a variety of sizes and applications. The difference between tempered and refractory glass is in a different amount of silicon dioxide. The more contains SiO2 glass disk is stronger in thermal and optical properties.   Diameter of the disc can be from 10 mm to 1000 mm.   The thickness can be from 4 mm to 15 mm.
---

 With its thermal, mechanical and optical properties of the glass discs have a wide field of utilization in daily life, industry and science. Today more and more people are watching environmental consciousness. Glass products are harmless to the environment during production and use. In addition, glass materials have stable hemiske features. I don't respond to most acids and alkalis. Resistance to corrosion is većaod steel and wood. Glass discs is hard to pollute and are easy to clean because of its smooth surface. And what is it important the transparency of light cannot be achieved by other materials.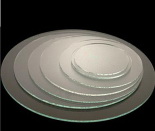 "ROMIKS" is specialized in producing discs for more than 10 years. Take care and keep an eye out for the best quality and service. To be sure, we have a professional team and we use modern equipment that ensures high quality products with a clean surface, good edge and solid tolerance. Our equipment includes staklarsko sanding, drilling, polishing, cutting and so on. Professional team and service:
We have a professional group workers and consultants who concentrate in studying and improving technology. They ensure that we follow the most advanced technology, reduce our costs and improve quality at the same time.

We have skillful and responsible workers. They work closely throughout the manufacturing process.

Our professional sales people have a good knowledge of manufacturing technologies and specifications.
---
 Working conditions:
Nominal pressure according to DIN standards

Maximum temperature + 150 ° C for tempered g

lass according to DIN 8902.             

 Maximum 280 ° C for Pyrex according to DIN 7080.

No minimum temperature.

Glass discs/panels are reinforced thermal process, surface polished and smooth edge.
---

Cutting is done on the water-jet machine so as to prevent temperature changes on the glass before hardening.
---
It is used:
as nivokazna glass

for Visual flame control 

for flow control or supervision fees

in the building industry (production of boilers and reservoirs)

in termoenergetici

in the pharmaceutical industry

in petrohemiskoj industry

in the industry of drinks

in the food industry

in the paper industry.
---
Package and transport:
All products must pass a final inspection test (Dimenzijalni review, cleanliness of dust as well as the quality of surface and edge)

One or more pieces of stiroporsko Pack + cardboard box.

According to the requirements of customer

s.