Laminized Glass is a safety glass consisting of two or more layers of glass, the same or different thickness, connected safety foil for laminating. Laminating is done with PVB (Polyvinil butyral), EVA/etilen Burmatex acetate-transparent or opal) and TPU (thermoplastic polyurethane) folloids.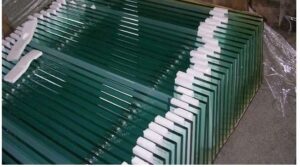 ---
---
LAMINIZED GLASS WITH EVA (Etilen-vinyl acetate) FOIL
  The Maximum dimension of laminated glass with EVA foil that can be developed is 2200 x 4800mm. Buffer Thickness can be 0, 80mm, 1.2 mm, 1, 6mm,… Basic technical characteristics of EVA films:
Strength Grip glass-glass………………………………… 14 N/cm2
Strength to the shooting of foils……………………………………..  190 N/cm2
Light transmission……………………………………………………< 87%></ 87%>
---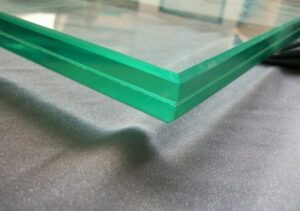 ---
EVA foil is characterized by a high factor of networking, which makes it resistant to moisture and temperature after lamination, so it is suitable for making glass that is used in exterior, where the edge of the lamistal is exposed to time impacts (installation on Spider carriers and etc.) EVA foil, due to its low viscosity during lamination, is exceptionally suitable for laminating of tempered glass and glass that has a rough surface. Likewise, in lamination with EVA foil there is a possibility of combining other materials between glass (PVC, PET, POLYCARBONATE; ACRYL, etc.) Negative property of EVA foil is too large adhesia foil and glass which is not suitable for making anti-Proval glass. The Lack of EVA foil is its higher price that the lamistal glass makes more expensive than the lamistal with PVB foil.
---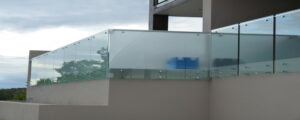 ---
LAMINIZED GLASS WITH PVB (polyvinyl butyral) FOIL
  Laminized Glass with PVB foil has the same application as it made with EVA foil, but PVB has better security performance. Namely, CARPENTER has a high coefficient of elasticity and sound insulation, and much higher optical purity relative to EVA foil. An exception is the application of glass in exterior. If the laminated glass with CARPENTER foil used for exterior, it is necessary to protect the edges of the glass from all weather conditions because otherwise there is a possibility of additional voids "glass. Maximum dimensional glass with PVB foil that can be developed is 2500 x 4500mm. Below, we cite the technical features of the laminated glass with PVB foil (d = 0, 76mm)
Elasticity of films until shooting…………………………………………….. 280%
Force made to burst foil…………………………………….. , 23 N/mm2
Light transmission (for combination 4 + 0,76 + 4)…………………………… 87%
UV beam transmission (for combination 4 + 0,76 + 4)………….. 0.2%
Sound insulation (for combination 4 + 0,76 + 4)……………………. 34 dB
In Addition to thickness of 0, 76mm possible thickness of the buffer is 1, 52mm and 2, 28mm. The Thickness of the buffer is given to better technical characteristics, but they are also used when it requires technology.
---
---
---
---
LAMINIZED GLASS WITH TPU (thermoplastic polyuretane) FOIL
  Laminized Glass with TPU foil is the highest quality safety glass that connects the best technical characteristics of EVA and PVB foil, and browses with its extremely large coefficient, as well as sound and thermal insulation. This Glass is most often found in special areas (wind glass on passenger planes and side glass on cars). TPU foil is suitable for connecting other materials with glass, most often polycarbonated glass, which enables the production of ballistic Glass to the NUMBER 6 category and is characterized by an exceptionally small weight per m2.
---
---
The Grafted laminized Flat glass consists of two or more glass, which with special thermal processing gets 5 times more strength, and it is connected with the safety foil to a whole. Such processing enables mounting on the dotted "Spider" carriers, which are pre-predicted holes or opened in glass. It is used for railings, canopies, dividing stones, sliding and hinged doors, etc.
---
Such glass can be make in version with transparent or opal. The Maximum dimensions for transparent glass are 2500 x 4800mm, while the laminized glass with opal foil with the maximum dimension amounts to 2200 x 4800mm. There is a possibility of making enamelled parapet (usually for glass railings), who is hiding the substructure or concrete which is located behind the glass. It is Possible to create a digital print that is located inside the laminised assembly, thereby preventing potential damage to the print, and the cleaning of the glass is easier.
---